Journal
Ultimate Guide to Choosing the Perfect Candle Scent
by Jerris Madison on Apr 01, 2022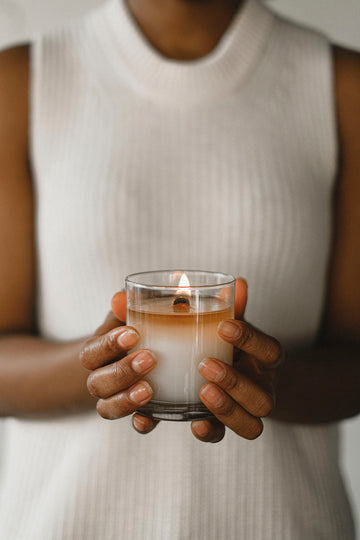 Hey candle lovers! So, you are interested in choosing the perfect scent for your candle. Well, good news because we wrote this blog, especially for you.
We will show you a lot of candles with different scents and tell you what they say about the owner.
Candles are a great way to relax, enjoy your surroundings, make a statement or set the mood. We will also tell you what each scent means and how it can reflect the personality of the candle's owner!
Sandalwood
Sandalwood is a woodsy and earthy scent that is often used in incense. It is said to be grounding and promote spiritual awareness. If you are looking for a candle that will create a relaxing and zen atmosphere, sandalwood is a perfect choice!
Vanilla
Vanilla is one of the most popular candle scents because it smells sweet and delicious. It is often used to create a warm and cozy feeling.
If you are looking for something comforting and familiar, vanilla is the perfect scent for you!
Lavender
Lavender is a soothing floral scent that promotes relaxation. It is said to be a wonderful scent for stress relief and insomnia.
Rose
Rose is a sweet and floral scent often used to create a romantic atmosphere. It is said to be an excellent choice for weddings and candlelit dinners.
Jasmine
Jasmine is a sweet and floral scent promoting happiness. It is said to be perfect for celebrations and get-togethers.
Eucalyptus
Eucalyptus is a refreshing and woodsy scent that promotes energy. It is said to be perfect for use in the morning or before a workout.
Orange
Orange is a bright and uplifting scent that promotes happiness. It is said to be perfect for use in the morning or during celebrations.
We hope this blog post has helped you choose the perfect candle scent! Remember, soy candles are a great choice because they are environmentally friendly and burn clean. So, go out and enjoy some candles with delicious scents! Thanks for reading!
Our current scents and note profile:
Ambrosia Black Sea Candle. Top: Citrus, Sea Salt, Ozone. Middle: Plum, Cardamom. Base: Amber, Dark Musk.
Ambrosia Sea Salt & Orchid. Top: Sea Salt, Ozone. Middle: Jasmine, Lily of the Valley, Green Leaves. Base: Wood, Tonka Bean.
Ambrosia Strawberry Guava. Top: Strawberry, Guava. Middle: Passionfruit, Mango. Base: Vanilla, Peach, Sugar.
Ambrosia Lavender Candle. Top: Marine, Eucalyptus, Honeydew Melon, Green Leaves. Middle: Lavender, Sage. Base: Cedar, Amber, Benzoin, Cypress.
Ambrosia Clean Linen. Top: Cotton blossom, lemon. Middle: Linen. Base: Powder, Sandalwood, Violet.
Ambrosia Vanilla Lush. Top: Buttercream, Cotton. Middle: Vanilla, Cake. Base: Sugar, Bourbon, Violet.
Shop our soy candles now! Click here.
2 comments