Journal
Are You Burning Toxic Candles? Let's Investigate!
by Jerris Madison on Feb 23, 2022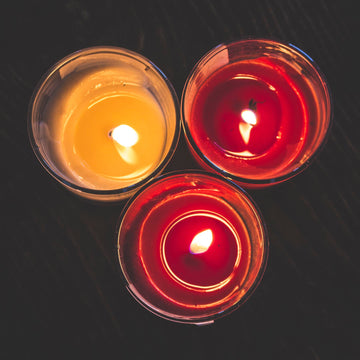 If you're not sure that you're burning toxic candles, you should be. Not all candles are healthy for you to burn and could cause health issues.
Consumers purchase many candles locally from places like Marshall's, Ross, Home Goods, CVS, to name a few because they are affordable however this isn't always a good idea.
Many candles are made of paraffin wax (a petroleum waste product that is chemically bleached), which creates highly toxic benzene and toluene (both are known carcinogens) when burned.
More About Soy Wax
Soy candles are a much healthier option – a vegetable wax derived from soybeans.
Soy wax is non-toxic and does not release harmful toxins into the air. If you've purchased candles in the past that may have caused you to have an allergic reaction or constant sneezing, it may be the harmful ingredients in the candle.
Our soy candles come in a variety of scents so that you can find the perfect one for your home. We also have unscented options for those who prefer them.
Why Should You Purchase Our Soy Candles?
RLC Decor Lifestyle candles are made with 100% vegan soy wax. Soy is one of the most renewable resources on earth, and it's also biodegradable, so you can feel good about lighting up your home or office. Our candles are hand-poured in small batches to ensure quality and consistency.
We use only premium vegan fragrance oils to create our unique scents, which will fill your space with an intoxicating aroma that lasts for hours after the flame has been extinguished. It's not just a fantastic product but also an incredible experience you can have every day of your life.
What are other harmful chemicals found in candles?
Phthalates are used to make fragrances last longer. When burned, they create a toxic cocktail of chemicals, including carcinogens. Lead is another common ingredient in candles. It's used as a wick stiffener. When burned, it produces lead oxide, which is a neurotoxin.
So what's the solution? 
Look for soy candles or beeswax candles. These types of candles are made without harmful chemicals and are much healthier to burn in your home. Soy candles also burn cleaner and longer than paraffin wax candles. Be sure to check labels and do your research before purchasing any candle. Your health is worth it!
How to order our Vegan Soy Candles?
Ordering from us couldn't be easier - we offer free shipping anywhere in the U.S., and all orders are over $60!
If you order before 3 pm CST Monday through Friday, we'll get your package shipped out within 24 hours (excluding weekends and holidays).
We even offer expedited shipping if you need something ASAP! 
If there's ever anything wrong with our products or service, please let us know right away so we can make things right again - customer satisfaction is essential to us at RLC Decor Lifestyle!
Click here now to purchase our healthy soy candles online today!
If you want to stay in the know with our products, sales, pop-up events, and more subscribe to our newsletter.
Happy candle burning! :)