Journal
9 Reasons Why You Should Invest In Our Candles
by Rossi Cole on Nov 01, 2021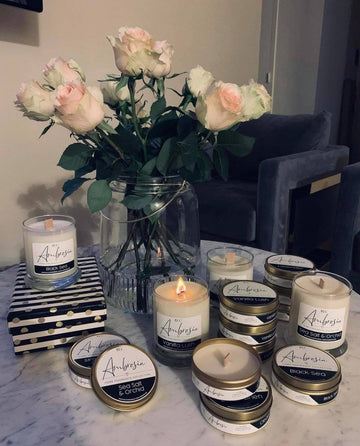 There can be many benefits to burning our candles in your home. A candle is more than a decoration. It can also be used to make your home smell good. A candle can be used for many things.
People purchase candles to express themselves–taking you to another time, and helping you feel better.
9 reasons you'll love our candles:
The gentle glow of our candles creates the perfect cozy ambiance.

After a long day at work (or just because), nothing sets a calming mood quite like crack a candle. The warm glow of the flame can help you unwind even during the most stressful times.

Our clean burning soy wax and premium fragrances will add delightful, room-filling scents to your home.

Because we use natural soy wax, essential oils, and phthalate free premium fragrance oil, you don't have to worry about our candles releasing toxins, carcinogens, or pollutants into your air. Just enjoy our richly scented fragrances.

Scent is the strongest sense tied to memory.

Our scents have the ability to transport you back to happy times that you may not have thought about in a while. Whether it's your husband or wife's fragrance, a stroll on the beach, or a cup of your favorite tea, we have a scent to spark your fondest memories.

Candles create a calming atmosphere.

There are calming effects associated with candles. The flickering of the wood wick flames combined with soothing fragrances can help us relax. In addition, using candles while practicing yoga or meditating is a fantastic way to set the mood and help us find calm and peace.

Add style to your space.

Our luxury jars and vessels are the perfect way to spice up any home decor.

Candle fragrances can boost your mood.

Scents can influence your mood and energy levels. "Scent molecules are shaped to fit into receptors in the brain that trigger neuroendocrine responses that affect our mood, energy, or physiological reactions," explains Karin Parramore Lac, CH, author of 

Aromatherapy With Essential Oil Diffusers: For Everyday Health & Wellness

.

Earthy, fruity, or spa-like? We have a scent for everyone.

When we set out to start our line, we wanted to be sure we had a wide range of scents so that everyone could find something they love. We tested several scents before deciding on our favorites that can be enjoyed at any time of the year. We are confident that you will love them too.

Our candles make wonderful gifts.

Our candles make great gifts for birthdays, housewarmings, wedding favors, conferences, teacher appreciation, and other holidays throughout. Many of our customers love the high-end look and luxury fragrances of our candles without the luxury candle price tag.

Candles are one of life's simple luxuries.

Our soy wax candles are an affordable way to pamper yourself. We use only the finest ingredients to ensure you get the most out of your candle burning experience every time you light it. So go ahead, spark one up, and treat yourself!